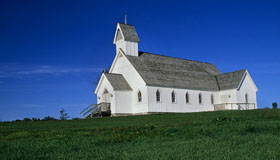 announcement
The vision of the foundation is to have a place of our own where we can have all these projects !!! Please join us in prayer for it to come into being. The project and the land are bought, we are waiting for God to prepare the finances so that we can start building the mission center !!!!!
How can I become a "born again Christian?"
    Answer: What does it mean to be a born-again Christian? The Bible answers this question through a well-known passage found in the Gospel of John 3: 1-21. In this chapter, the Lord Jesus Christ speaks to Nicodemus, a leading Pharisee and one of the members of the Sanhedrin (thus a judge of the Jews). Nicodemus had come to Jesus after dark. He had a few questions to ask Jesus. Speaking to Nicodemus, Jesus said, "Verily, verily, I say unto you, Except a man be born again, he cannot see the kingdom of God." Nicodemus then asked Jesus, "How can an old man be born? Can he enter a second time into his mother's womb and be born? " Jesus answered and said unto him, Verily, verily, I say unto thee, Except a man be born of water and of the Spirit, he cannot enter into the kingdom of God. That which is born of the flesh is flesh, and that which is born of the Spirit is spirit. No wonder I told you, 'You must be born again.' " (John 3: 3-7).
      Literally, the phrase "born again" means "born from above." Nicodemus had a real need. He felt the need for a change of heart, a spiritual transformation. Being born again, being a second birth, is an act of God by which eternal life is attributed to the believer (2 Corinthians 5:17; Titus 3: 5; 1 Peter 1: 3; 1 John 2:29; 3: 9. ; 4: 7; 5: 1-4, 18). The Gospel of John 1: 12,13 indicates that the expression "born again" also has the meaning of "becoming children of God" through faith in the Name of Jesus Christ.
The logical question is, "Why does a person need to be born again?" The Apostle Paul in the Epistle to Ephesians 2: 1 says, "Ye were dead in your trespasses and sins." (Romans 3:23) Therefore, a person needs to be born again in order to have his sins forgiven and to have a personal relationship with God.
        But how does this birth take place again? Ephesians 2: 8,9 says, "For by grace are ye saved through faith; And this does not come from you; but it is the gift of God. Not by deeds, lest any man should boast. " When a person is "saved," he / she is born again, being a spiritually renewed person, and is from that moment a child of God as a result of being born again. Faith in Jesus Christ, the One who paid the penalty for our sins when He died on the cross, actually means "being born again" spiritually. "For if any man be in Christ, he is a new creature" (2 Corinthians 5: 17a).
         If you have never believed in the Lord Jesus Christ as your personal Savior, are you ready to respond to the Holy Spirit who now speaks to your heart? You need to be born again. Do you want to say the prayer of repentance today and become a new person in Christ? "But as many as received him, to them gave he power to become the sons of God, even to them that believe on his name: born not of blood, nor of the will of the flesh, nor of the will of man, but of God "(John 1: 12-13).
If you want to accept Jesus Christ as your personal Savior and be born again, here is a simple prayer that will help you. Remember, though, that saying this prayer or any other prayer will not save you. Only faith in Christ can save you from sin. This prayer is just a way to express your faith in Him to God and to thank Him for giving you salvation."
        "Lord, I know that I have sinned against You and that I deserve punishment. But Jesus Christ took the punishment I deserved so that I could be saved by faith in Him. I now turn from my sins and put all my faith in You for salvation. Thank you for Your wonderful grace and forgiveness of sins – the gift of eternal life! Amen!"
 If you have more questions go to
http://www.gotquestions.org/Romana/index.html and you will receive the answers !!!!!